Friday, October 12th, 2012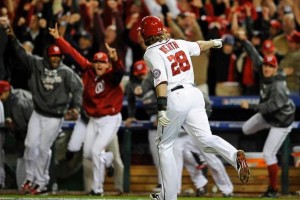 I'll admit, when I first learned of Jayson Werth's $126 Million dollar, 7-year contract with the Nationals back in 2010 I wasn't happy. To pay that kind of money for the 3rd best hitter in Philly, to expect a role player to suddenly be the leader of this franchise, it flummoxed me. I thought we could have spent that type of money and gotten at least two quality arms to put on the hill. He seemed sullen, spaced out, and I hadn't actually heard him speak a word ever. Plus his hair….good lord that hair. Jayson Werth? No thank you…
My transformation of feelings did not begin last night, but when I watched him fall to the grass in agony holding his wrist in a game against the Phillies back in May. I realized that we needed this guy, needed his bat, needed his glove, needed his sullen calmness that never wavered. Just because he looks like the Geico Cave Man doesn't mean he's not valuable. And coincidentally, that injury gave us all Bryce Harper sooner than we thought. I'm not thanking Werth for getting hurt so we could see the kid play, just an awesome coincidence.
When Werth came back from his injury we witnessed a Jayson Werth Nats fans had never seen before. Suddenly instead of the number five in the lineup power hitter we all wanted him to be he was our leadoff guy: the spot the Nationals had tooled with more than an old Chevy. He could see a lot of pitches (2nd most in the MLB), he had plenty of speed, and could ramp up the power when needed. The perfect table-setter for Harper, Zimm, LaRoche, and Morse. And boy did he catch fire, making up for lost time. The Nats lineup suddenly resembled a formidable foe, it looked the way I had dreamed it would when the Nats first drafted Bryce Harper.
Last night's at-bat epitomized not only Jayson Werth but the entire Washington Nationals this season: Just.Keep.Fighting. 13 pitches, 1 mistake, Nats win. Even if Washington is unable to close out the series tonight in Game 5, Werth gave the fans something not seen around here in decades: a memorable playoff moment. So from caveman to hero, Werth proved that yes…he is the $126 million dollar man.