Wednesday, February 15th, 2012...4:27 PM
Haynesworth Back on the Market!
Jump to Comments
Rich Tandler of CSN Washington reported today that the Tampa Bay Buccaneers have released defensive tackle Albert Haynesworth. The move will save the franchise $7 million in cap space.
Does this really come as a surprise to anybody? Haynesworth was not even good enough for the Redskins. Then the Patriots picked him up and Bill Belichick, the GREAT Bill Belichick, could not change his attitude. Personally, I think that the Buccaneers wasted their money in signing him.
Haynesworth was once a great and feared defensive lineman when he played for the Titans. In 2005, he totaled 52 total tackles. The year before he signed with the Redskins for $100 million he racked up 51 tackles with 8.5 sacks. That is absolutely ridiculous…in a good way.
When he joined the Redskins he was supposed to be the one to save the Redskins defensive line. In two forgetful  seasons in Washington, Haynesworth recorded just 53 tackles with 6.5 sacks…not quite the guy Danny Snyder paid $100 million for. Haynesworth also only managed to appear in just 20 games over those two seasons.
Since then, Haynesworth has appeared in 13 games and totaled 23 tackles with no sacks. He is certainly not the player he used to be. Much of that can be attributed to the fact that Haynesworth, before coming to the Redskins, had already had a history of injury trouble. Only once did he play a full 16 game season with the Titans (his rookie year).
It's time for (Fat) Albert Haynesworth to hang up the cleats. His athleticism is diminishing and his stamina does not exist anymore. A once feared defensive lineman is only feared by one thing now…his couch.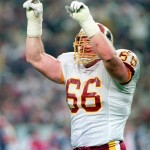 By Brian Skinnell