Saturday, October 13th, 2012...10:42 AM
The End of a Season, the Beginning of an Era
Jump to Comments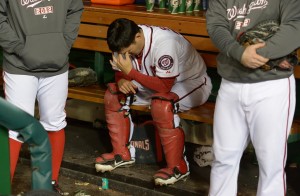 By Ben Simpson
I've been staring at this screen for thirty minutes, writing and re-writing, typing and then erasing. I keep searching for an angle, some way to look at this loss differently. I check Facebook and all I see are angry and sad fans, even more on Twitter, summing up the season in 140 characters. What do I say? Do I try to be funny, be sad, be angry? Do I blame Drew Storen, do I blame Ian Desmond, do I blame Gio? Do I blame my parents for moving me here to live in the land of "Shoulda, woulda, coulda"? Do I blame myself for choosing to support the Nats no matter what when they arrived in DC? What do I do…I suck it up, take it on the chin, and I remember that this is the burden we carry, welcome to DC Sports everybody.
This one hurts a little more than the others, cuts a little deeper. I guess I realize what Boston fans felt like, what Cubs fans still feel. What Texas felt last year. One pitch and everything changes. One strike away…one foul pop-up, one swing and a miss, one tapper to 3rd, one blazing fastball on the inside corner…any one of those could have sent the Nats fans back into the night with a smile on their face. I don't like to compare a loss in sports to a death in the family, one is just a silly game and the other a great tragedy but today I feel like my heart was ripped out of my body. Sure, its dramatic. Yes, its only a game. But that doesn't mean it still doesn't hurt like hell.
I look at what I wrote last night and they resemble the ramblings of a mad man. Today my head is a little clearer, my thoughts a little more coherent. There is still so much to celebrate about this team, the fact that they made it this far is cause enough for cheer. They accomplished the unthinkable this season, they stood up to the critics and the doubters and non-believers. Harper is too young and arrogant, Werth isn't worth that kind of dough, LaRoche isn't a prime time player, Strasburg is just going to get hurt…These are real things said at the beginning of the season. And they were wrong.
The future is bright in Washington. RGIII, the ever-growing potential of John Wall and his surrounding cast, the Caps (if hockey ever returns), and the team that gave DC a taste of playoff baseball. The rest of the fans in the world who have felt this heartache, maybe not only for years but for decades, welcome us in with open arms. Welcome to the club. Baseball is a funny game. The entire mood of a park can hinge on a single pitch. But that's why we love it, why we respect it. It takes a lot out of you to watch your team play 162 games in the regular season. You watch the heroes emerge, the rookies rise. You see the ups and the downs. The team becomes your team. You know the players all by name, each little distinguishing characteristic or mannerism becomes common knowledge. This was a great group of guys.
I will wait patiently for Spring Training to roll around again, to see what Rizzo and the front office decide to do in the off-season. I hope it is not much, for this group knows how to win. This group is hungry to make it back to the postseason, this time with their ace on the hill. This group deserves another chance. The Nats are built for the future, and I am hopeful they will get their shot at a ring. I pine for the future, but today let's remember these guys for what they accomplished and how they made us feel in Game 4 when Jayson Werth sent a baseball over the left field wall. Hold on to that memory, and wait.