Wednesday, February 15th, 2012...6:39 PM
The 2011-2012 NBA All-Underrated Team
Jump to Comments
With the NBA all-star festivities looming, I think it's time to recognize some of the least-recognized contributors in the NBA. These guys aren't All-Stars, but they are consistent and among the leaders in a few key stats in this lockout-shortened season.
These five players are to the NBA what "Hey Hey What Can I Do" was to Led Zeppelin. I present to you my 2011-2012 NBA all-underrated team.
PG: Jose Calderon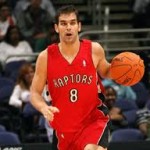 This has been the year of the point guards, starting with the Chris Paul trade fiasco before the season began. Then it was Rubio fever as he finally arrived from overseas and gave the Timberwolves life with his flashy passing. Now, it's Linsanity, a term which will probably be in the dictionary by the end of the week, when he becomes mayor of New York City. Even 38-year-old Steve Nash leads the league in assists per game. But underneath all the hype and ridiculous ESPN coverage, there has been Calderon, steadily performing at an NBA level. Calderon is fourth in the league in assists per game, with 8.7. Stop and think, who does he even pass it to? He has singlehandedly kept the awful Raptors in plenty of games. He's finally started to take over games, too, putting up 30 against Kobe and the Lakers and then 25 and a near triple double when matched up with Lin, shooting better than him with half the turnovers.
SG: Mario Chalmers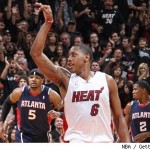 Just imagine what Chalmers could do if he was allowed to play the 2-guard on a team that didn't have LeBron, D-Wade, and Chris Bosh. Instead, Chalmers runs an awkward point in which the Big Three just try to take the ball from him. Despite that, he averages 11.0 points per game in 28 minutes, while shooting 51% from the field. As long as he is with the Heat, he will never get the attention he deserves unless he kills LeBron and hides his body in his locker. As much as I hate his alma mater (Eat more Jayhawk), I love Chalmers in a 2-guard role as a catch-and-shoot player, taking advantage of his 46% 3-point shooting this season. If I had to choose a player on the Heat to take a big shot in the 4th quarter, I'm not choosing Wade or LeBron, I'm choosing Chalmers.
SF: Thaddeus Young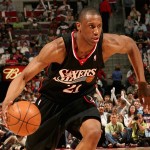 *This spot should probably belong to Danilo Gallinari, but with the season he was having before his injury, too many people realized how good of a player he is for him to be on this list.
The Sixers are off to a 20-9 start without any true stars, though Andre Iguodala is an All-Star. The team uses role and niche players to win games, and Thaddeus Young is one of the most important ones. Young can play the 3 or the 4 off the bench for Philadelphia, though he could start almost anywhere, and is averaging 12.8 point per game in just 28 minutes, including a few 20-point games. Young has owned the shot from the elbow since Spencer Hawes' injury and is 12th in the League in shooting percentage with 52%. He also turns the ball over less than once a game. Look for his stats to rise with more playing time.
PF: Anderson Varejao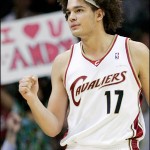 The 6'11" Brazilian is one of two silver linings of the Cavaliers, the other being Kyrie Irving's impressive rookie season. Varejao was averaging 10.8 points and 11.5 rebounds per game before he fractured his wrist against the Bucks on Feb. 10. He was fifth in the league in rebounding average, ninth with 14 double-doubles, and one of only five players this year to have a 20-point, 20-rebound game. The other four are All-Stars. I'd make the case that Varejao deserved the reserve center position for the East All-Stars over Roy Hibbert, though Varejao's injury would have kept him out anyways.
C: Marcin Gortat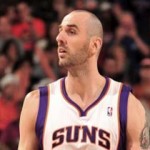 After coming over from Orlando in the Hedo Turkoglu trade last season, Gortat has established himself as a solid starting center in the NBA and he's one of the main reasons Steve Nash leads the league in assists. He also owns the undisputed title for the largest nose in the NBA, nearly reaching Nigel Thornberry status. All joking aside, however, Gortat is averaging 15.3 points and 10.2 rebounds per game, and is fifth in double-doubles with 17, including a stretch where he had a double-double in 14 of 15 games and only Kevin Love has had a longer double-double streak this season. Gortat has capitalized on his first chance to start, averaging 33 minutes a game this season, compared to 18 in his career. He is also very good at defending without fouling, averaging only 2 fouls per game.
By Adam Pope