Tuesday, October 16th, 2012...3:49 PM
NBA Preview Spotlight: The Philadelphia 76ers
Jump to Comments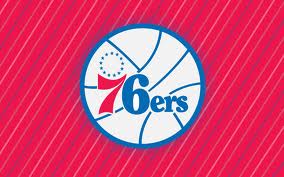 Two NBA preview posts in one afternoon? Must be a slow day for the FPB staff…time to fly to the city of Brotherly Love and look at what Philly brings to the table this year.
Where They Stand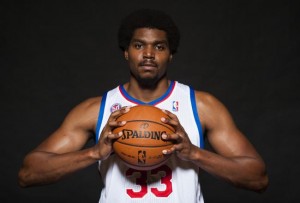 Out with Iguadala, in with Bynum. Philly has their big man signed to a one-year deal. Will he stay longer? Or bail after one season? Can Philly live up to the hype? So many questions, only a few paragraphs to answer. I love the way this team has developed over the past few seasons. Doug Collins knows how to get the best out of his players, and Philly had a strong season last year. Going 35-31 and grabbing the 8th seed of the playoffs ended up being a gift due to the D-Rose injury as the 76ers were able to make it out of the first round before losing to Boston in the second in seven games. This is another team just making their way over the fence from "pretty good" to "pretty great" and the Bynum addition will either be fantastic or destructive.
Basketball is huge in Philly, and the 76ers haven't had a whole lot to cheer about since the days AI was breaking ankles. The fans miss making the playoffs every year, they crave the national spotlight. In a loaded Eastern Conference, as well as a loaded Atlantic Division, Philly will need to put in the work to keep their head above the rest.
Roster Thoughts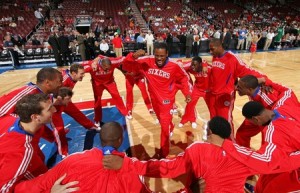 Philly has some big names, but lets get into their roles a little bit. Starting with the point guard: Jrue Holliday. Holliday puts up solid numbers (13.5 ppg last season), never seems to get injured, and runs the floor brilliantly. He will be backed up by Royal Ivey and Maalik Wayns, though Turner will get time at point, one a veteran the other a rookie. Philly will be in good hands again if Holliday is at the point. J-Rich and Nick Young will be the tandem at shooting guard. Richardson brings experience playing alongside a great center, like he did with Dwight in Orlando, and gives them a viable scoring option to replace Iggy. Young is one of the streakiest shooters around, but once he gets hot he is pretty much unstoppable working for his shot off the dribble. After getting run out of Washington, playing a season under the lights in LA, Young might finally have a stable home in Philly.
The move of Iggy will move Turner to the 3, in front of Thaddeus Young and Dorrell Wright. Turner was drafted to one day be the face of the franchise once Iguadala left, and now is his chance. Could a breakout year be in the cards? Young is a very good option off the bench, able to play multiple positions and will probably see a lot of time at power forward as well. Wright has impressed throughout camp with his shooting. At power forward Spencer Hawes will be, as Bleacher Report's preview stated, the "Pau Gasol of Philly." A better outside shooter than Gasol, Hawes showed flashes last year of his ability. Working with Bynum underneath, Hawes can feel free to play the high post and work some pick and rolls with Holliday and Richardson. Lavoy Allen brings a defensive presence off the bench, a key piece in Collin's plan. Last we get to Bynum, one of the most confusing and frustrating players to watch sometimes. So much potential, so many questions. If Bynum can get past the mind games, get past the immaturity, he can blossom into the next Dwight (a role  that was pushed onto him in LA). He can be great, but Philly won't be lessening the pressure for him to perform. Behind him is Kwame Brown…enough said.
Predictions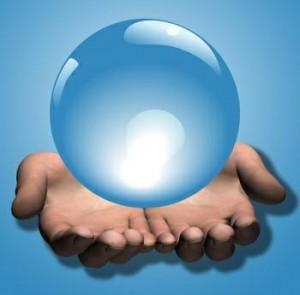 Time to unwrap the crystal ball and make some probably way off predictions about the Philadelphia 76ers this season!
–Bynum Blossoms. Sounds like a weird song title, but Andrew could find his own this year and develop into the player LA always wanted him to be. I'll predict his averages: 15 points 12 rebounds 3 blocks
–Nick Young will still be hilarious.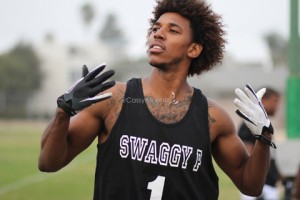 The guy goes by "Swaggy P" on twitter….
–Philly makes the leap. This is the year folks. Give them a 4 or 5 seed in the playoffs and let them work their magic.
-Collins wins Coach of the Year. I'm a fan of Doug, liked him on the Olympics broadcasts. Seems like a good guy and a hell of a coach.
-Turner turns it on. Plenty of eyes in Philly will be watching this kid, he'll shine this season.